Full Mouth Restoration
Discolored, missing, worn or traumatized teeth can cause everyday activities such as eating or smiling to feel physically or emotionally painful and less than comfortable. Instances of improper dentistry or overlooking one's dental hygiene can bring about a need for restorative treatment, or even a comprehensive full mouth restoration. A full mouth restoration at Dr. Martin Sterling & Associates consists of an array of restorative and cosmetic treatments in order to provide your mouth with a healthy, beautiful status. Dependant on each client's smile's specific state-of-health, a client may benefit from veneers, bridges, crowns,. periodontal or endodontic treatments, dental implants or other dental treatments.

For any questions or concerns, please do not hesitate to contact us via our website.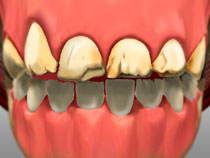 Patient Education
Patient education library includes information on various topics ranging from dental care to oral health problems.
Access Patient Library »